Brother Sun Releases 3rd CD - Weights & Wings
Monday, April 4, 2016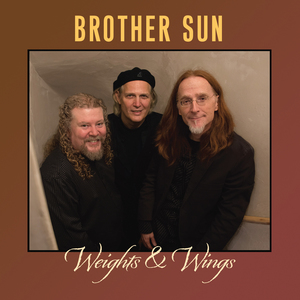 After five years of performing all over North America, Brother Sun has established itself as one of the most compelling groups on the contemporary acoustic scene. Their previous CD, "Some Part of the Truth," was the #1 CD on Folk-DJ for the year of 2013. Uniting respected singer-songwriters Joe Jencks, Pat Wictor, and Greg Greenway, Brother Sun is known for powerful harmonies, intricate musical arrangements, and their easy onstage rapport. Their third and newest release, Weights and Wings, confirms the trio's dedication to extending its musical and artistic boundaries.
The songs on Weights and Wings represent the evolution the group and its members have undergone. This is Brother Sun's most emotionally immediate and musically diverse work yet, and it affirms the power of song to accompany each of us from grief and loss into new worlds of possibility, light and promise. Ranging from gospel and blues-inflected grooves through delicate ballads, with playful dips into zydeco and jazzy a cappella, the ensemble's muscular and precise harmonies provide the optimism and uplift in every song. The CD's instrumentation, creating textures from introspectively etheral to rocking and gritty, is rounded out by guest musicians Jon Carroll on piano, organ, and accordion, Chico Huff on bass, and Matt Scarano on drums and percussion.
Greg, Joe, and Pat each toured as solo singer-songwriters for more than a decade before forming Brother Sun. Their collective musical experience encompasses folk, roots, blues, pop, jazz, rock and a cappella singing. The band fuses them all in an explosion of musical diversity and harmony, in the finest of male singing traditions. From three major cities - Boston, Chicago, and New York - the three have truly blended themselves into a unique celebration of the amazing power of singing together.
Appearances at festivals like Falcon Ridge, Kerrville, Old Songs, Vancouver Island, and a summer 2016 appearance at Mariposa attest that Brother Sun is regarded as a must-see live act. Brother Sun's music and message appeal to mainstream listeners and dedicated folkies alike, to people of widely divergent spiritual and political leanings, and fans of both contemporary and traditional music. They offer the hope of people uniting to create beauty in uncertain and unsettled times.

The new album is available for purchase at www.cdbaby.com/brothersun3.