Weights & Wings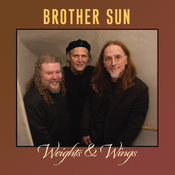 released 2016 Brother Sun Music
2016 Brother Sun Music
The songs on Weights and Wings represent the evolution the group and its members have undergone. This is Brother Sun's most emotionally immediate and musically diverse work yet, and it affirms the power of song to accompany each of us from grief and loss into new worlds of possibility, light and promise. Ranging from gospel and blues-inflected grooves through delicate ballads, with playful dips into zydeco and jazzy a cappella, the ensemble's muscular and precise harmonies provide the optimism and uplift in every song. The CD's instrumentation, creating textures from introspectively etheral to rocking and gritty, is rounded out by guest musicians Jon Carroll on piano, organ, and accordion, Chico Huff on bass, and Matt Scarano on drums and percussion.
Weights & Wings Advance Reviews:
Brother Sun's third album leaps like a solar flare of heat and light. Greg Greenway, Joe Jencks and Pat Wictor fuse voices of primary colors, creating a white light illuminating the heart and the darker corners of our world. Widely diverse songs, all originals with the exception of one well-chosen Phil Ochs cover, keep the album engrossing and entertaining from first to last track.
-Rich Warren, The Midnight Special & Folkstage, WFMT, Chicago, IL
Weights and Wings is another step forward for this very special trio in their songwriting, production, and chemistry. Wrap yourself in their rich harmonies and embrace their clear-eyed vision.
-John Platt, WFUV, New York, NY
Folk on steroids! Brother Sun melds heart-lifting anthems with the art of harmonic massage. Nimble, strong and soothing all at once!
-Mary Sue Twohy, The Village Folk Show, Sirius XM
Brother Sun incorporates a fuller band sound on Weights and Wings, with stirring originals, their trademark three-part harmonies, and a terrific version of Phil Ochs' "When I'm Gone." When I heard the opening a cappella notes of "Mary Don't You Weep and Moan," I knew I was in for a soaring ride. And I was.
-Bob McWilliams, KANU, Lawrence, KS
At the first invigorating note, you are hooked. Their full voices and soaring harmonies, the interweaving of styles, the intricate arrangements and the poetic lyrics create an amazing recording. Brother Sun does it all, seamlessly going from uplifting folk-gospel to rock and blues, and beautiful introspective songs. "I Won't Look Down" is destined to be an anthem for our time.
-Laurie DesJardins, KVMR, Nevada City, CA
Brother Sun's latest recording Weights and Wings is a welcome visit from three friends who come bearing comfort, hope and inspiration in the form of powerful new songs and their trademark exquisite harmony. This new recording puts the emphasis on "harmony" through both their artistic achievement and sharing themes that remind us that we need to find an accordance in these troubled times.
-Ron Olesko, WFDU, Teaneck, NJ